THREE TEAMS BID FOR CSL CHAMPIONSHIP…….Semifinal Saturday
09 Oct 2020
It will be just one semifinal leading to the Canadian Soccer League championship following the elimination of Hamilton City from the post-season playoffs following a disqualification of the steel city side at the end of the regular season on October 3.
Hamilton City ended the season with a Not-in-Good Standing status, a standing that according to CSL By-laws forfeits 'benefits and privileges', which can include playing in the league championship.
The one semifinal, FC Vorkuta vs Serbian White Eagles, with be played at Centennial Stadium in Toronto's west end on Saturday, October 10 at 2 pm and the winner will meet the current CSL champion and winner of the 2020 First Division, Scarborough SC, at the same ground on Saturday, October 17, also at 2 pm.
Scarborough will be attempting to repeat its 2019 championship triumph, a victory that was forecast by many following the club's strong performance in the CSL First Division since 2016 when GM Kiril Dimitrov moved the team to Birchmount Stadium. The Toronto east-end side defeated Ukraine United 2-0 in the 2019 championship final after being the runner-up in both 2017 and 2018 finals. FC Vorkuta has an enviable record in league play and won the championship in 2018, defeating Scarborough on penalty kicks following a 1-1 tie, but the most successful of today's teams in CSL championship playoffs is Serbian White Eagles which won in 2008 and 2016 and were finalists in 2006, 2007 and 2009.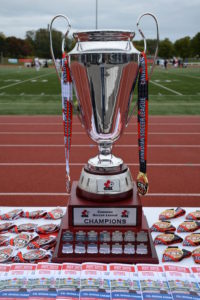 The final game on October 17 will conclude an abbreviated 5-team league and championship competition shortened by the COVID 19 pandemic.
THE CSL SEASON IN RETROSPECT – Highlights of the 2019 Campaign – Part 1
26 Nov 2019
PICTURE: Scarborough was a known quantity in the bid for 2019 honours, having finished third in the  2016 First Division standings and was a championship finalist in 2017 and 2018, losing by the narrowest of margins in a penalty kick shootout decider. On May 31 at the beginning of the 2019 season FC Ukraine United […]
CSL SEASON KICKOFF DELAY EXTENDED TO JUNE 29
18 Apr 2020
The Canadian Soccer League has delayed the kickoff of the 2020 season for a further month beyond the earlier May 29 start announced at the beginning of April. A further delay to Monday, June 29, is the new target kickoff date following recent decisions of local municipalities which owns and operates the enclosed stadiums and […]
SC Waterloo – FC Vorkuta
18 Jun 2018