CONTINENTALS WIN CHAMPIONSHIP SQUEAKER…….
28 Aug 2022
Continentals FC and Scarborough have dominated the CSL Championship during the past four years and the domination continued when the former FC Vorkuta (now rebranded Continentals FC) won a 2-1 squeaker at Lamport Stadium in downtown Toronto Saturday night.
Continentals (FC Vorkuta) won the CSL Championship in 2018 and 2020, while Scarborough lifted the trophy in 2019 and 2021.
The well-played encounter was both end-to-end yet there was an abundance of good midfield play that produced a final that pleased the fans while the eventual winner was in doubt through to the final whistle.
Scarborough defender Misel Klisara struck an early goal minutes following the kickoff to give the current CSL champions a 1-0 lead, a low drive from the edge of the box that entered the right post, leaving Continentals goalkeeper Anatolli Starushchenko little chance for the save.
Both side's came close as the first half progressed and Continentals found the equalizer at 44 minutes when the prolific Mykola Temniuk scored his first of two goals from 14 yards with a shot partially saved by Starushchenko before it entered the net. It was 1-1 at the break.
Temniuk scored his second from eight yards and the winner at 48 minutes, giving Continentals a 2-1 lead and on the edge for most of the second half still to play. There were numerous furious attempts by Scarborough to be on level terms, searching for a chance to go into 30 minutes of extra time. A free kick on the edge of the box taken by Scarborough's Milos Scepanivic at 85 minutes went inches over the bar.
Continentals came close to adding to the score when Oleksii Boiko drove just wide of the left post at 89 minutes after Starushchenko left his goal to assist in a clearance.
Continentals defender Mykyta Tkachev was shown the red card by referee Carlos Rodriguez for Violent Conduct with minutes remaining, a 2-1 score in favour of Continentals FC at the final whistle.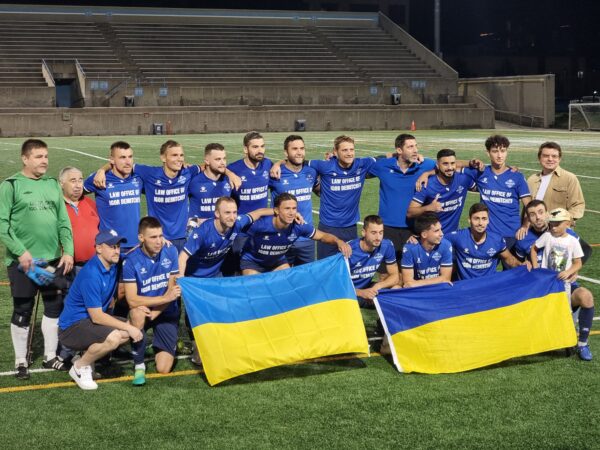 Continentals FC
Anatolii Starrushchenko (Goalkeeper), Oleksandar Alieksieiev (Defender), Maksym Banasevych (Defender), Jesus Edardo Compean Conzalex (Defender). Borys Orlovskiy (Defender), Andrii Sorokyn (Midfield), Serhii Ivliev (Midfield), Serhii Pitel (Midfield), Bogdan Borovskyi (Midfield), Vitalii Tymofienko (Midfield), Mykola Temniuk (Forward), Substitutes: Andrei Churchin (Goalkeeper), Mykyta Tkachev (Defender) in 57 min., Dmytro Pronevych (Midfielder) in 68 min., Basel Rashrash (Midfielder), Serhii Ursulenko (Midfielder)in 55 min., Oleksii Boiko (Forward) in 73 min., Viktor Raskov (Forward).
General Manager: Denys Yanchuk
Head Coach: Andrie Malychenkov
Assistant Coach: Viktor Raskov
Director: Igor Demitchev
Scarborough
Christan Moraldo (Goalkeeper), Petar Vukadin (Defender), Sven Arapovic (Defender) Misel Klisara (Defender), Odain Omaro Simpson (Defender), Vladimir Zelebaba (Midfielder), Camaal Reid (Midfieler), Amador Torres Castillo (Midfielder), Neven Radakovic (Midfielder), Maximilian Never (Midfielder), Gonzalo Matias Cabrera Celis (Forward). Substitutes: Joao Emmanuel (Defender), Marko Johansen (Defender) in 34 min., Leandro Aguilar (Defender), Edgar Oswaldo Osorio Rios (Defender), Saul Oertega Gutierez (Defender),  Oyedele Luqman (Midfielder). Cesar Dorantes (Midfielder), Zoran Knezevic (Forward) in 74 min., Milos Scepanovic (Forward) in 71 min., Moussa Limane (Forward) in 71 min., Murillo Gabriel (Forward), Jair Cruz (Forward), Jose Jair Gonzalez (Forward), Taha Ilyass (Forward) in 45 min.
Head Coach: Mirko Medic
Assistant Coach: Vladimir Dragicevic
General Manager: Kiril Dimitrov
Match Officials
Carlos Rodriguez (Referee)
Temur Qayoumi (Assistant Referee 1)
Jad Hachmi (Assistant Referee 2)
I Papanicolaou 4th Official
CSL CHAMPIONSHIP –  2022 – SUMMARY
QUARTER-FINALS
Serbian White Eagles and York Region Shooters gained a bye to the semi-finals.
Continentals FC 2, Toronto Falcons 0
Scarborough SC 3, BGHC 2
SEMI-FINALS
Serbian White Eagles 0,  Continentals FC 2
Scarborough SC 3,  York Region Shooters 1 (after extra time)
CSL CHAMPIONSHIP – FINAL
Scarborough 1 Continentals FC 2
Venue: Lamport Stadium, Toronto
WHAT'S NEXT ?
Soccer – more soccer. The Canadian Soccer League is 2/3 through its 2022 season with the regular season completed and Serbian White Eagles winning the league title and Continentals FC the CSL Championship.
The league turns now to paying tribute to one of its own and long-time member of the Canadian soccer community with a  season-ending competition, for the Enio Perruzza Memorial Trophy to kickoff during September to the final in October.
Enio Perruzza died unexpectedly on January 15, 2021 at the age of 54 following a period during which he had long since recovered from heart surgery.
Dubbed as the voice of the CSL while the announcing for the league for  over 20 years, Enio Perruzza called more than 3,000 games in the Canadian soccer community.  Perruzza's booming voice became known  beyond the Canadian Soccer League to Ontario Cup matches and international matches involving high level teams from other parts of the world.
Announcements with dates will be made soon.
Stan Adamson
The post CONTINENTALS WIN CHAMPIONSHIP SQUEAKER……. appeared first on Canadian Soccer League.
DEN HAAG SIGNING BIG SCORE FOR EMILIO ESTEVEZ
14 May 2020
Emilio Estevez, a 21 year old midfielder who had trials in 2018 with Queens Park Rangers in England and Levante in Spain's La Liga while playing for SC Waterloo in the Canadian Soccer League, has been signed by ADO Den Haag in the Dutch Eredivisie. That's a big score for the Toronto-born player who played […]
COACH MAGDENOVSKI UNDER CONTRACT WITH BGHC 1
30 Oct 2022
Sasa Vukovic is making an early start to his club's preparations for the 2023 season. The owner and general manager of Hamilton City is concentrating on his coaching in an effort to move the combined BGHC 1 team more competitive. File Magdenovski is under a new 2-year contract as an assistant coach following the one […]