Danny Dichio made more than 300 appearances for several top flight clubs in England and Italy before moving to Canada to sign for Toronto FC. He took part in the opening debut match, scoring for the history book with Toronto's first MLS goal against Chicago Fire on May 12, 2007.
Dichio ended his playing career in 2009, remaining with Toronto FC as a coach of the second squad and in 2021 he left Canada to take up coaching with Sacremento of the US-based United Soccer Leagues He was was then appointed to his first head coaching job with Detroit City, also of the USL. Lack of good coaching positions in Canada has been said to be a major reason for the goal scorer going south of the border. A form of brain drain.
To be more competitive on the world stage, Canada needs a stronger professional soccer structure. Countries high on the FIFA list of ratings all have a strong professional soccer base which ensures a robust player development environment to accommodate an abundance of technical positions including coaches. Also, it has been well established that not all of Canada's soccer player talent wants to go out of the country in pursuit of a professional career.
The launch of the Canadian Premier League in 2017 was a step in the right direction. But it's not enough and can be a long uneasy journey to maturity which includes sufficient coverage in the media, eventually leading to an increased fan base and a greater attraction for players and coaches.
The Canadian Soccer League, now a regional league in southern Ontario, encourages seasoned senior amateur clubs to step up and consider a place at the semi-pro level. The CSL accommodates many outstanding import players approved for temporary residence in Canada while playing. Such an accommodation raises the standard for greater attraction on the field of play and accelerates the further development of local players of the CSL teams..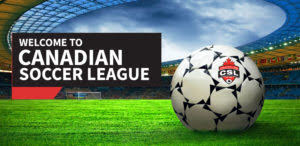 The CSL, formed in 1925, has been the starting point for many high level players such as Atiba Hutchinson who ended his playing career in the 2022 World Cup after representing Canada more than 100 times and a sparkling career mostly in Europe. Today, Jonathan Osorio with Toronto FC is one of the most recent from a long list of former CSL players to shine at a higher level. Osario now has more than 70 caps for Canada.
Senior amateur teams in southern Ontario interested in taking a step up to semi-pro level for the 2024 season can obtain more information by sending an email to info@canadiansoccerleague.ca.
Stan Adamson
The post STEPPING UP TO THE PRO LEVEL appeared first on Canadian Soccer League.